About Us
At The Whitechapel Mission, we have been helping Londoners to help the homeless since 1876, meeting the specific needs of each man and woman who walks through our doors. First, we help the homeless by meeting immediate needs: food, shelter, clothing, and medical care. In our recovery programs, we address deeper needs for life-skills and job skills training, and addiction recovery. We measure our progress against four criteria, which indicate to us that a life has been transformed from homelessness to hope: connection to family, commitment to sobriety, a job and a place to live, and a plan for the future.
Today, The Whitechapel Mission is a results-oriented organization that is recognized as one of London's most effective.
We meet basic needs
This is done by offering: hot breakfasts and lunch, showers, clothing, hairdressing, optician, medical care, dentistry, befriending and advising on: night shelters, hostels, benefits, identification documents, form filling, debt counseling, entitlements, finding appropriate help.
Why we're raising money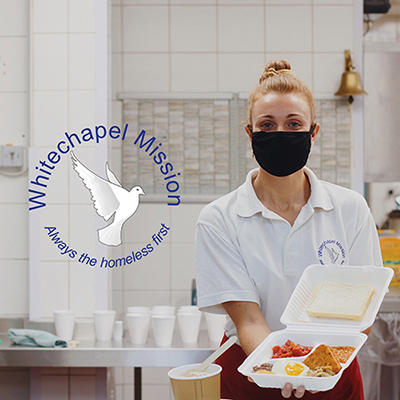 Our centre in Whitechapel is open every day providing free; food, clothing, showers and advice. We are open to all, and we provide help face to face, by telephone and online. We believe everyone deserves chance, regardless of their background, race or religion.
Our goal is to help people to help themselves, giving them the confidence they need to become independent, which we do through practical support and advice and by teaching the life skills they need to succeed.

We believe in keeping promises, which we use to guide our work, 365 days of the year:
We promise our guests that we will provide a warm and welcome place for them to come, built on trust, belonging and understanding.
We promise our colleagues and volunteers that we will give them a safe environment for them to work in and a real opportunity to make a positive impact on the lives of the people they support.
And we promise our supporters that every penny they give us will always go directly to services and to support our valuable work, only made possible through your kind support.